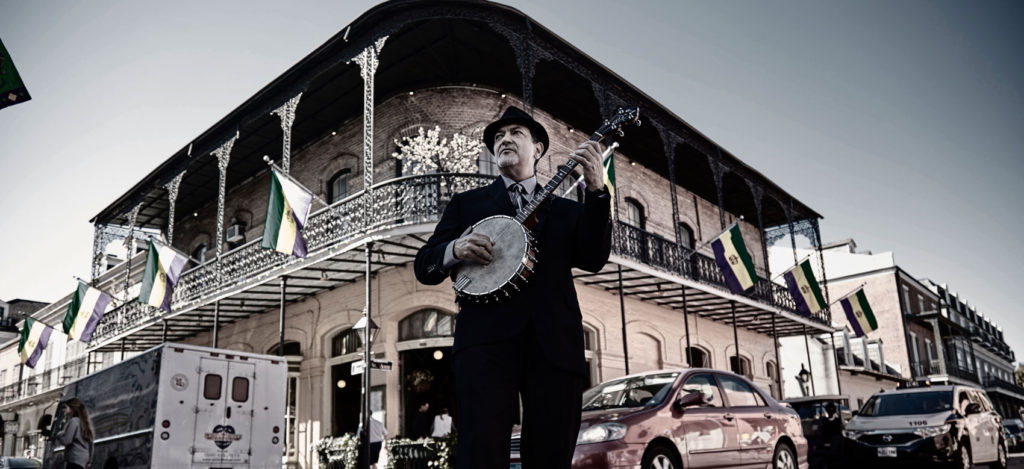 DON VAPPIE – Banjo/voice
DAVID HORNIBLOW – Clarinet
DAVE KELBIE – Guitar
SÉBASTIEN GIRARDOT – Double Bass
Award winning Créole Banjoist guitarist vocalist, considered one of the best banjoists in the history of New Orleans and credited with preserving Créole culture.
Buddy Bolden s Blues

Don Vappie Blue Book of Storyville

5:32

La Ville Jacmel

Don Vappie Blue Book of Storyville

3:37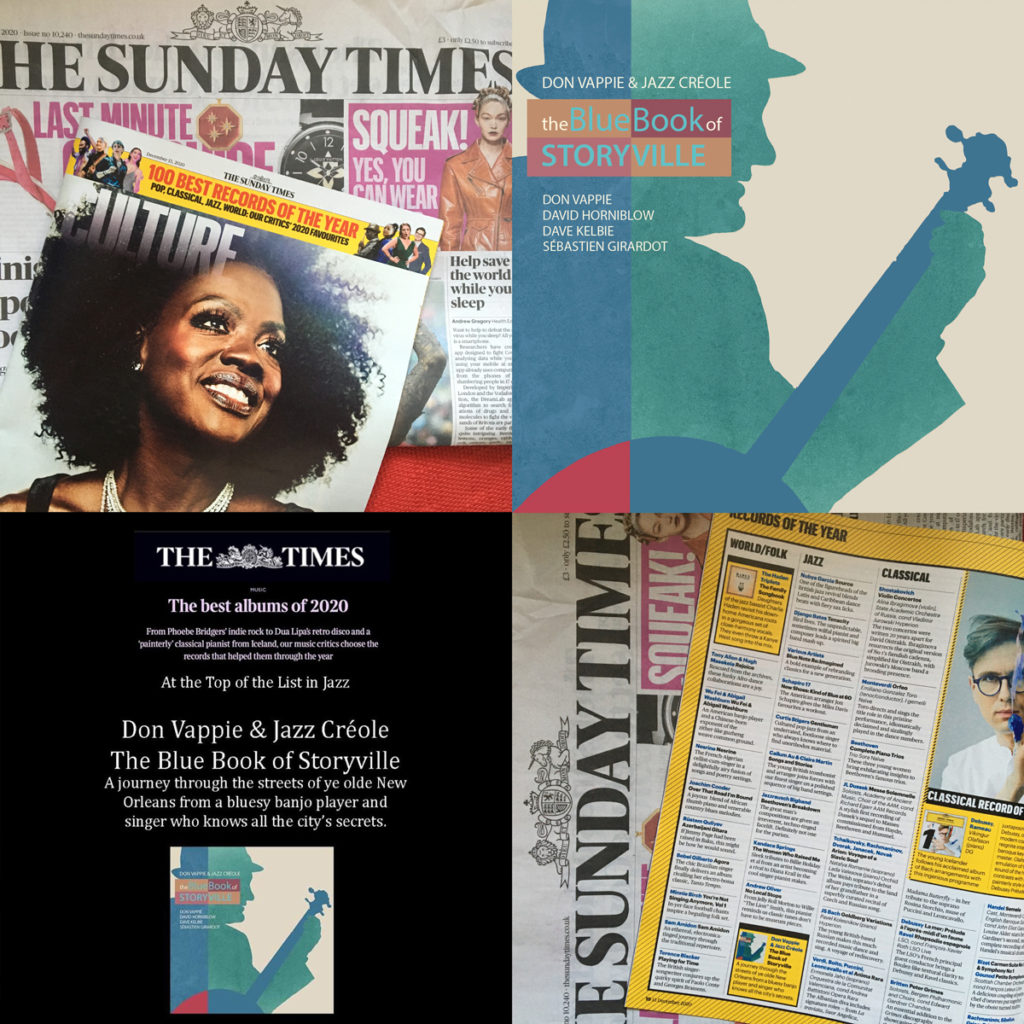 Don Vappie, New Orleans musician/entertainer, is the number one New Orleans Jazz banjoist performing on the planet today. He's been a headliner at festivals and concert halls around the world including Carnegie Hall in New York City. Honoring the tradition of his predecessor, banjoist Danny Barker, Don has kept alive Créole songs of New Orleans and has been honored with awards from Créole society for preserving this cultural treasure. He embodies all aspects of the unique melting pot of cultures that is New Orleans. This is evident through the list of artists he's performed with. They include Wynton Marsalis, Eric Clapton, Dee Dee Bridgewater, Peggy Lee, Otis Taylor, Diana Krall, Bette Midler, Preservation Hall.
He also embodies the banjos evolution from Africa through seamless performances with artists from Mali, Cheik Hamamla Diabate and Basaku Kuyata, and from Senegal, Dema Dia. Don can be heard on numerous recordings of his own and various other artists including the classical world where he arranged and orchestrated three of HARRY Reeser's classic banjo solos pieces from the 1920s into an orchestral suite entitled the Reeser Suite and was also the soloist for the naxals recording with the Hot Springs music Festival Orchestra in which received critical acclaim as a banjo virtuoso. Don speaks the language of jazz with the New Orleans accent.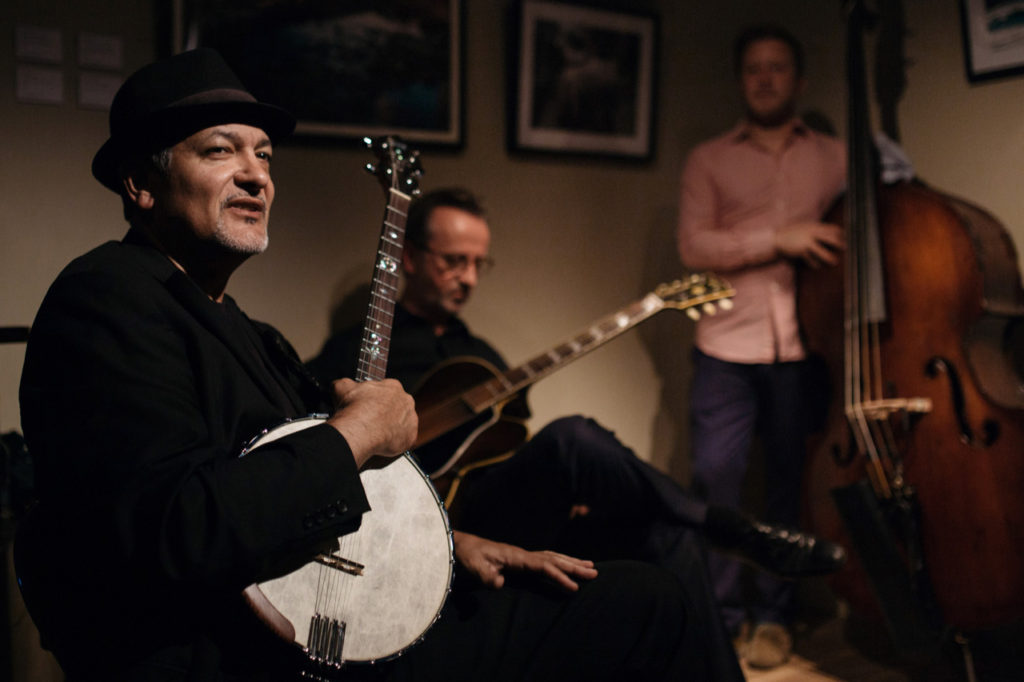 This project with David Horniblow, Dave Kelbie and Sebastien Girardot, combines all genres of New Orleans from traditional to modern day funk with the classic early tradition of a string band. The result is "Jazz Créole".
"What's exciting about this project is that we get to explore the music as it evolved in the Crescent city through the medium of the string band and the roles that our instruments played in the music. The very first bands of New Orleans were string bands. From the beginning strings played a big part in New Orleans music. The banjo was a staple of the rhythmic pulse in early jazz just as the the guitar spoke the language of the blues. The string bass took over from the tuba and by mixing 2/4 grooves with 4/4 grooves created a smooth pathway to the R&B shuffle. Interestingly, the bass lines of modern-day New Orleans R&B and Funk are reminiscent of the melodic unifying role played by the African predecessor to the banjo, the ngoni.
Our journey is to explore the widest range of possibilities our instruments can offer through a nontraditional approach within the tradition of Créole songs, R&B, New Orleans funk, second line and all that New Orleans has inspired around the world. After all, it was James Brown who said, "every instrument is playing the drums". And this beat will go on."
PRESS:
Beautifully Recorded, you can hear right around the instruments, … Gorgeous! CLARE TEAL, BBC
…jazz virtuosity with buoyant blues riffs and a splash of Caribbean rhythms THE TIMES UK
Lejazzetal's reputation goes before it, this new Don Vappie album serves to reaffirm it BEBOP SPOKEN HERE UK
a superb musician and improviser AMERICAN RECORD GUIDE US
The banjo has a Jimi Hendrix THE TIMES PICAYUNE US